Project Stealth Superyacht
Enter Project Stealth: a name that sounds like a sleekly designed, drone-like military craft, but in reality is a futuristically designed 155-foot luxury yacht. Its hull is carbon black paneling, swiftly transitioning midway to dark granite, allowing for a multi-dimensional furtiveness, and for Project Stealth to truly live up to its name.
But at its core is something entirely different, an endeavor that Southampton designer, Peter Bolke, set out to undertake with this rigidly precise model. What Project Stealth was trying to accomplish was not so much a physical embodiment of militant aesthetics, but more so a simple solution to a common issue that has plagued yachts its size for decades.
Yachts that are a comparable size to Bolke's Project Stealth are composed of designs lacking accountability for bustling stewards, hurried crewmembers, and lingering guests. While the layouts of these mammoth yachts appear functional on the blueprint, in actuality they fail to consider the nature of busied human movement.
Project Stealth Design Elements
Beyond its streamlined aesthetics, Project Stealth humbly tackles the flybridge, mating it with a flush deck and enclosed helm behind the main windshields. Here, Bolke's plans are set into motion, configuring a flybridge that removes the hustle of guests and crew. The design meshes the fashion of a sport-boat with the spacious comfort of a superyacht. This introduces a slightly curved windshield met with flat-glass panels wrapping the length of the yacht, giving Project Stealth its trademark modular-meets-luxury appearance.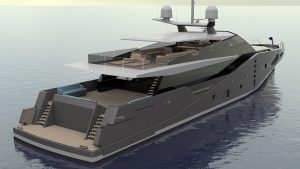 Bolke retains the inherent lavishness of a typical yacht, like a large saloon, master suite perched on the main deck, and four double staterooms for esteemed guests (and four considerably roomy crew cabins on the lower deck).
Expertly Designed Stairs For Maximum Space
Then, there are the stairs. Project Stealth continues to outsmart typical yacht design by placing stairs on the side for efficient boarding. Bolke clearly did his homework by studying the typical flow of movement on yachts, including a wide, stout set of stairs from the swim platform to the main deck and another internal staircase to the bridge. Wide passageways make up the sides to the foredeck leaving no chance for claustrophobic encounters with other ship guests.
Project Stealth's Tactical Looks To Kill
Project Stealth's tactical design can be built in aluminum or composite. The modular yacht will be powered by twin diesel engines at an astounding 1,200 hp, gifting Project Stealth with the top speed of 16 knots and a range of 4,800 nautical miles. Bolke achieves what he sets out to do with his brainchild, Project Stealth—a marriage of strategic coolness to fluid practicality.