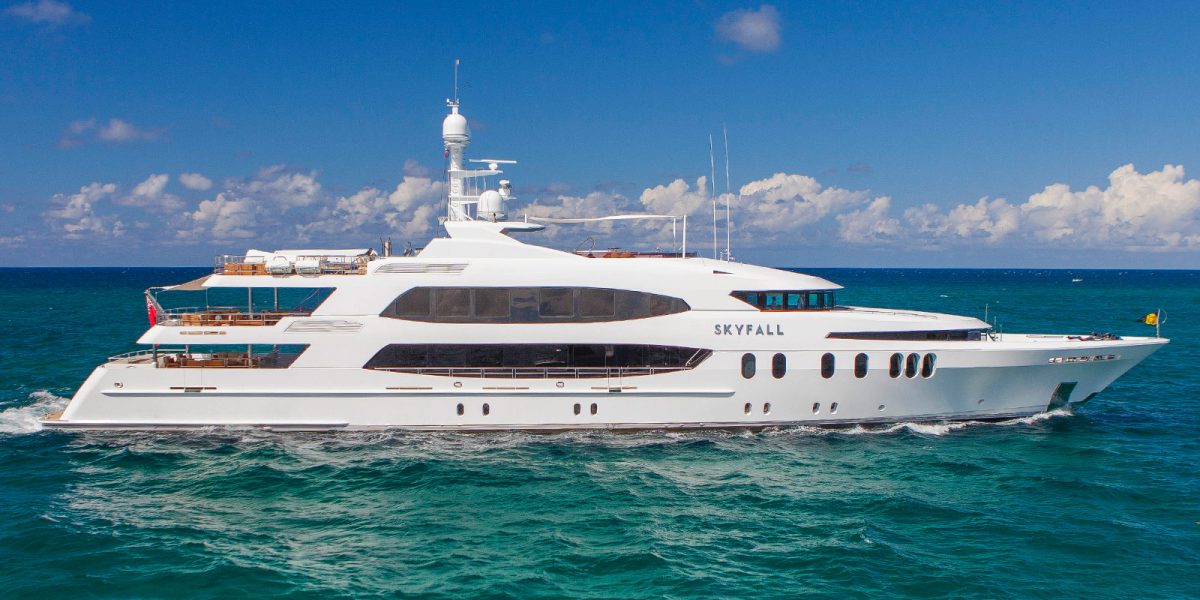 Trinity Yachts' M/Y Skyfall Superyacht
When Patrick Knowles refitted Trinity Yachts' M/Y Skyfall in 2015, it seems his intent was to lavishly accommodate her guests. Stepping aboard this superyacht, it quickly becomes apparent that Knowles effortlessly succeeded. The 57.90-metre Skyfall presents a generously expansive design capable of serving up to 17 guests in 7 suites and up to 13 crewmembers to ensure an equally luxurious yacht experience.
Skyfall Superyacht Amenities
Boredom is a term unknown to Skyfall. Her vast exterior, a courtesy of Geoff Van Aller, is met with the interior's equal ampleness, permitting broad deck space for lingering guests, a beach club for those who favor water sports, a spacious saloon adorned with velvet cladded seating, a formal dining room to seat 14 of Skyfall's guests, and the modern perk of a 50-inch home theatre screen. If these features of Skyfall don't strike a fancy, then guests can seek out the private study and lounge, soak in sundeck's hot tub, or immerse themselves in the 280-degree views.
The superyacht is thoughtfully decorated, with embellishments of bright turquoise details throughout, a leaping contrast against midnight-grained chestnut furnishings. A reoccurring sea life theme runs a course through Skyfall's elegant interior rooms, grounding guests in a firm appreciation for the animals and their waters through which this superyacht treads.
Plush, neutral carpet pads the three-deck layout, with contemporary chandeliers that despite their boldness in design, shed a warm light to cultivate an atmosphere one could only deem as hygge. Panoramic views impart unforgettable scenes from the wide mouths of the layered decks, allowing Skyfall to further integrate herself into the surrounding nature.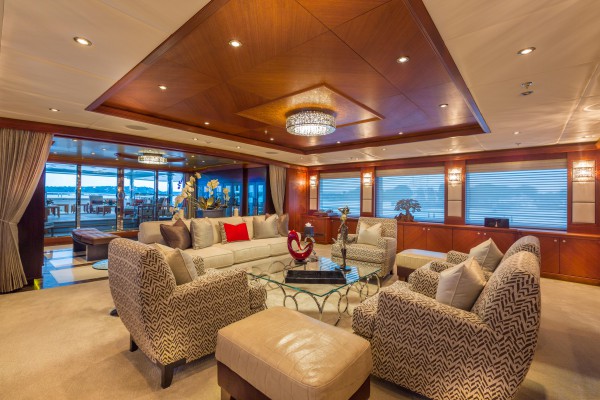 Interior Design On Skyfall
Knowles ensured that every guest onboard Skyfall is spoiled by crafting a seven-stateroom layout, fitted with an impressive split-level master suite on the main deck, two double VIP suites below, and two additional doubles for good measure. The rooms can account for king size beds in the master and two double VIP suites, followed by the remaining two doubles' queen-sized beds (here is the comparison between mattress topper vs mattress pad and which is more suitable for luxurious beds). Each cabin is equipped with 42-inch televisions because Knowles' scrupulous interior design unfailingly championed entertainment.
Trinity Yachts harnessed the best minds of their in-house team to craft the all-aluminum body back in 2010 and the design remains a classic marvel. Skyfall's shallow draft allows her to best other yachts her size in shallow waters, and her sleek exterior retains a traditional and timeless aesthetic, only appropriate for superyachts that can boast similar luxuries.
Skyfall is a custom semi-displacement superyacht with a modernized stabilization system. She masterfully reaches a top speed of 21 knots and has a range of 1,666 nautical miles, a striking union of performance and luxury.