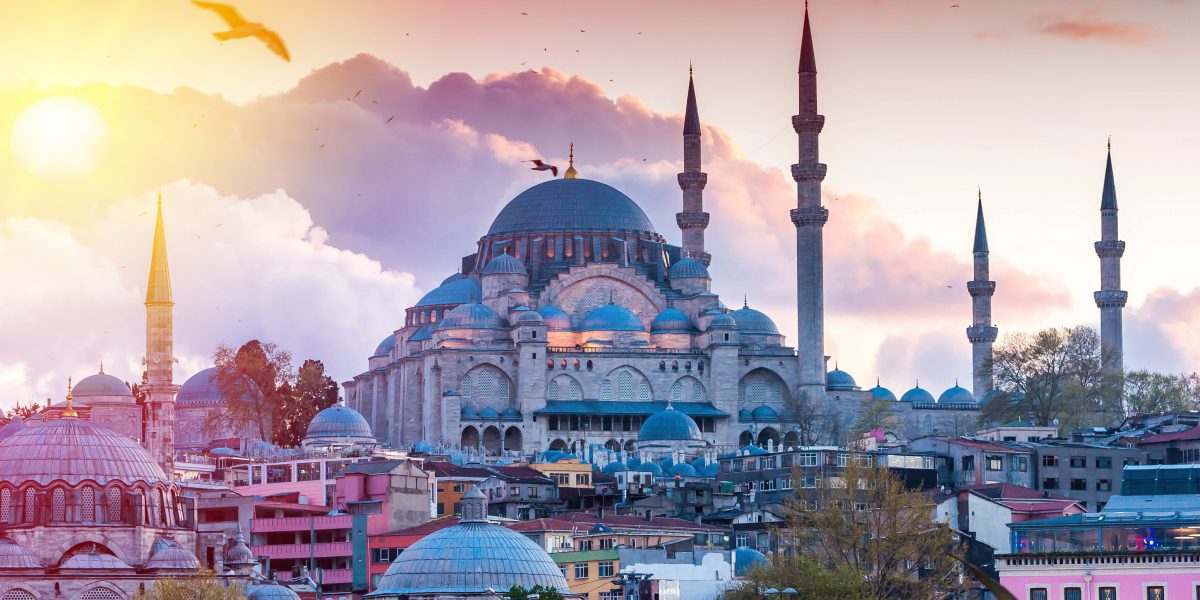 Discover Turkey
The yachting industry in Turkey has grown enormously over the past four decades, and it is now a hugely popular destination for those seeking a luxury yacht charter. Head on a journey to a place where east meets west, and long-held traditions meet modern luxury.
From the historic ruins and architecture, to the delicious cuisine and calm anchorages, Turkey offers an eclectic mix of culture, scenery, and beauty. The majority of restaurants here make use of the freshest Mediterranean ingredients such as olives and tomatoes, and you have to try the mezes – starters that simply burst with traditional Turkish flavors. With the sea close by, fresh fish is always on the menu and there are plenty of desserts such as baklava and kadayif (shreds of pastry baked in syrup).
The marinas in Turkey are renowned for being well equipped and able to handle an array of vessels. This ensures a plentiful access to supplies, convenient and safe access to harbors, and the ability to explore a wealth of destinations before heading back on board.
With the Greek islands just a stones throw away, many charter vacations now incorporate this region to provide an Aegean experience sure to live long in the memory.
Perhaps the most established and well-equipped marinas can be found on the coasts of Antalya, Kemer, Finike, Fethiya, Gocek, Marmaris, Datca, Mersin, and Bodrum to name only a few, and access around the southern Turkish coast is easy for those on board a luxury yacht charter. In this article, we've picked some of our top places to explore while on a luxury yacht charter in Turkey.
Antalya
Often referred to as the 'Turkish Riviera', Antalya is an extremely popular destination for those heading on a luxury yacht charter. In addition to the natural beauty of this area, history and architecture can be found in abundance, ideal for those days on land. A plethora of bars and restaurants are all within reach, and the area is well equipped and placed to receive luxury charter yachts.
Long sunny days sailing on sparkling, clean waters, are perfect for those wanting to experience a truly magnificent luxury yacht charter.
Bodrum
At the very center of the Turkish Gulet and Blue Cruise region, Bodrum is a popular starting point for many sailing charters in the Aegean Sea. Bodrum itself has a large harbor overlooked by Bodrum Castle, complete with an awe-inspiring museum – a must-see if chartering in this region. The harbor is frequently bustling with Gulets and sailboats coming to enjoy the wide variety of restaurants and eateries, offering a true taste of Turkey alongside a vast array of international cuisine.
Gocek
Gocek attracts VIPs and celebrities from around the globe and is home to world-class yachting. Turkish culture meets stunning natural beauty and the area has a number of unspoiled islands awaiting exploration. Whether you wish to explore or simply relax, Gocek is a superb choice for a luxury yacht charter.
Marmaris
This vibrant port has plenty to offer, including a lively expanse of bars and restaurants. The nightlife here is sure to provide a great evening for you and your guests before you return to the luxury and serenity of your charter yacht. Primarily a fishing town, Marmaris has plenty to offer by day too, and the countryside here provides a great opportunity to take to the road and explore land. There are many ancient ruins to see, gorgeous beaches to experience and a number of villages oozing Turkish charm.