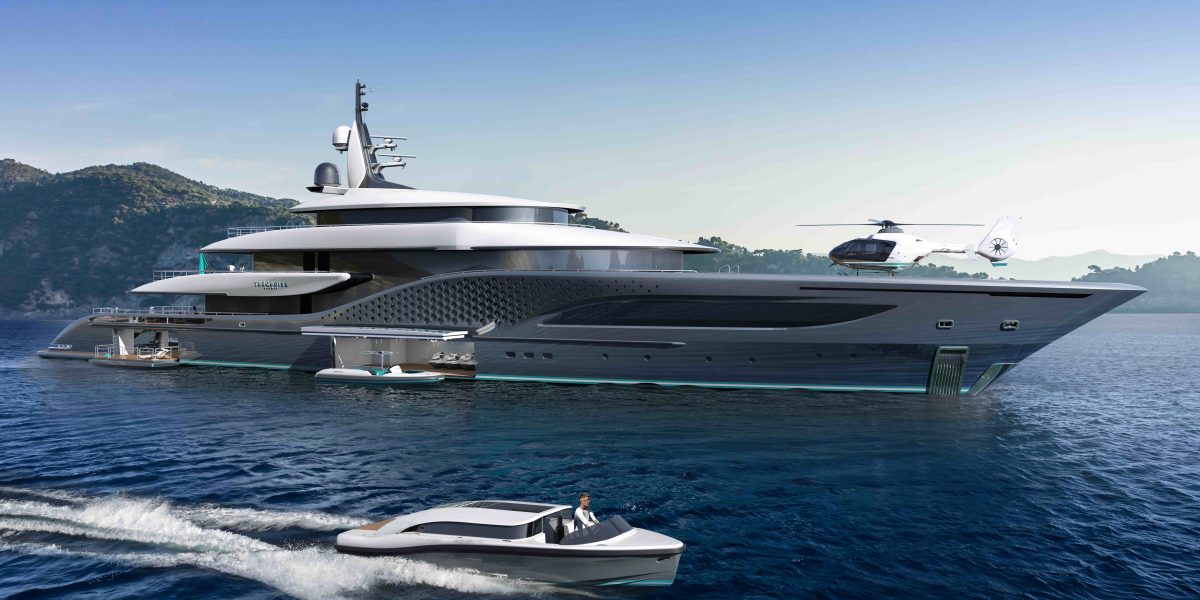 Quantum Yacht by Turquoise Yachts Is A Luxe Dream
Ken Freivokh's fresh yacht project, Quantum, leaps forward as the all-star in superyacht designs. Pardon the pun, but there's a certain, undeniable truth behind it.  As she stands, Quantum towers at 253-feet with her unmistakable open four-deck design.  As Freivokh's newest concept, Quantum melds the experience of fresh air with the utter opulence of a superyacht.
Freviokh, who previously worked on renowned projects with Turquoise Yachts like Maltese Falcon, Dream Symphony, and the Black Pearl, truly outdid himself this time, especially with the feature of the tender garage.  The garage is designed to flood to ease the tender out with superior manageability.  But when the garage is absent of water vehicles, the space transforms into a saltwater pool.  The constant usability of such space is not only innovative but ingenious.
Quantum Yacht Amenities
The transom's ability to open on three sides allows for the terrace and gymnasium to tout Quantum's atrium concept, providing her guests with the opportunity to feel intertwined with the surrounding sea.  In blending the decks for a coherent design, Freviokh implemented another swimming pool on the deck above so that natural light could filter through its base.
If Quantum isn't enough on her own, guests can seek even more entertainment and activities with her 33-foot vessel, which she stores in a second garage.  This tender can be used for guests to engage in watersports or offer rides towards the shoreline for those wanting to explore the beaches.
The superyacht caters to the owners, providing them with an exclusive deck, accompanied by a pool and dining area.  Because the entire yacht can open herself up to the sea breeze and sounds of waves lapping against the sides, the owners can enjoy alfresco dining and the majesty of being afloat in luxury.  Heading inside, owners will enjoy the views of 180-degree panoramic windows.You can also check over here to know more about windows.
But the master suite doesn't stop here—beyond the bedroom quarters is the master apartment, fitted with high ceilings, flowing into a private saloon, equipped with an office—but with all of Quantum's amenities, it is doubtful anyone will be able to get their work done.  The master apartment also features a nanny cabin to ensure that children can be kept under a watchful eye while aboard.
For the guests, Quantum does not disappoint.  Those on-board can gather on the main deck for dinner, as the formal dining room accommodates up to 14, and afterwards, relax in the rotating seats as the room before you becomes a cinema to cap off the night's entertainment.  Quantum's atrium, connected by a centrally located elevator, encompasses all four decks, suited with the bridge deck's transparent floors to satisfy Freviokh's taste for natural light.