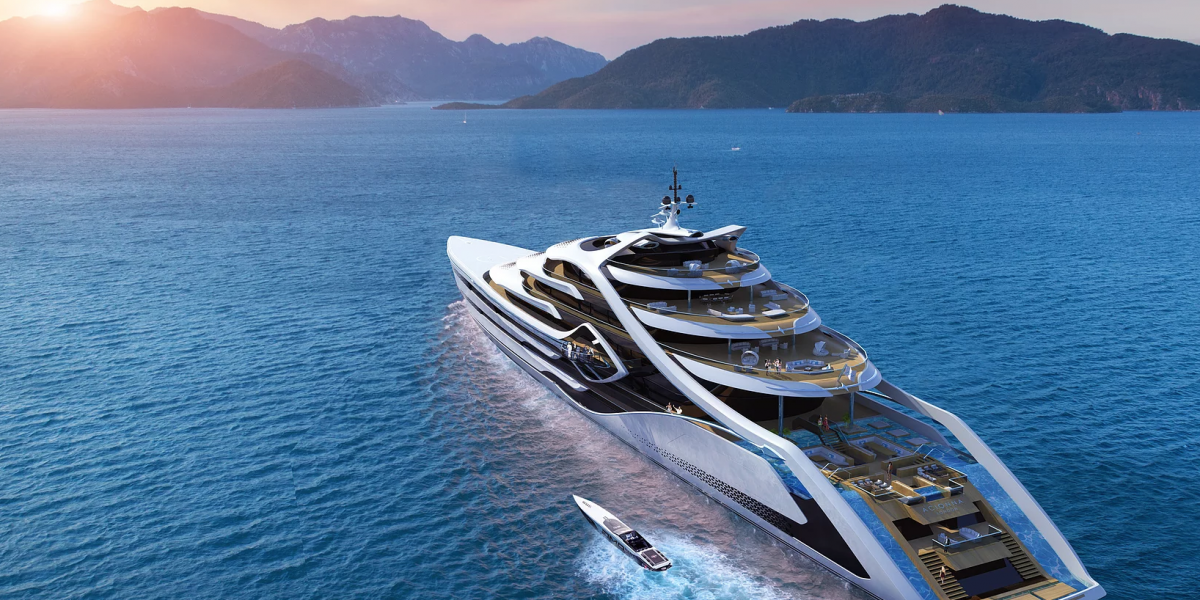 Acionna: The Hydrogen Powered Yacht Design Is Revitalizing The Superyacht Industry
One look at British designer Andy Waugh's superyacht design Acionna and you might feel like your gazing at something straight out of a Bond movie.  The superyacht is an aesthetic delight—an elongated hull reminiscent of a shark's nose, topped with eight, semi-circular decks with staggering visual designs, coming together to create an image akin to Poseidon's trident.
The Acionna Hydrogen Powered Superyacht Design
Waugh's design allows for the main saloon to be the central focus, complete with panoramic glass curving seamlessly with the ship's body. The saloon overlooks the swimming platform, an area accessible by a tunnel aft and bridge forward. Communal gathering areas surround the pool for a unique island effect, and the pool itself is an impressive 20 meters.
Beyond Acionna's tantalizing symmetry is a feature unknown to guests who are busying themselves with her numerous first-rate amenities. The superyacht holds a unique characteristic that places her above the rest, one that is only familiar to inner workings of the ship.
Another Hydrogen Powered Yacht
The Energy Observer pictured below is also powered by Hydrogen.
Acionna is powered with hydrogen, making her as environmentally friendly as she is visually spectacular.  The ship, despite her girth, could be "zero impact", thanks to hydrogen, which would be purchased from renewable energy sources.  In recent days, massive cruise ships and other enormously large boats with long-range capacity have used hydrogen as a trial run.
Of course, Waugh made certain that guests aboard Acionna are going to be far too busy to consider the superyacht's low impact on the environment. A few perks include a full-sized squash court and a helicopter hanger.
For Waugh, the design is not only innovative but so is the functionality. His theory behind the hydrogen powering Acionna is: "Until vessels like this one are built there will be no way to increase demand for hydrogen thereby breaking the chicken and egg stalemate of supply and demand."
Waugh envisions the Acionna concept for those who consider themselves trendsetters, but in reality, it is Acionna setting the trend.
SEARCH HERE for your next yacht charter with Perfect Yacht Charter!