Jubilee is a Superyacht Fit for Royalty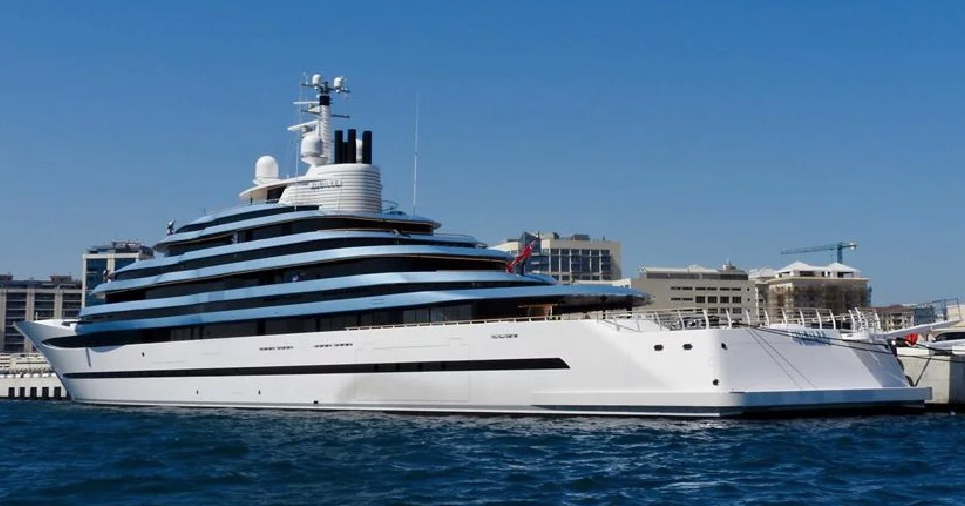 Jubilee is a sight to see. The body of the superyacht sits low against the water, while your eyes are drawn to her decks—tinted mirror blue, neatly stacked in her center, sheltering her guests for ultimate privacy as they drift along in Jubilee's absolute luxury.
The superyacht ranks at 360-feet crafted from aluminum and steel by Dutch-based shipyard Oceanco to a design by Igor Lobanov. For the interior, Jubilee is masterfully styled by Sam Sorgiovanni, gifting the superyacht with voluminous spaces to accommodate 30 guests in 15 cabins throughout.
Jubilee Superyacht Amenities
Her main saloon is expansive, complete with an equally massive television as the focal point of the room, and at the opposite end—a regal lounge chair beneath a glittering ceiling of golden ribbons, because Jubilee wants you to feel royal.
The spoils do not end there. Jubilee has a massive pool deck, crowned with a built-in aquarium. The beach club is tucked below, equipped with a gym and hammam. At her slightly raised bow, you'll find a helicopter pad, but it is doubtful you would ever want to leave Jubilee's delights.

The design of Jubilee ensured unnecessary noise was sedated throughout the ship by utilizing rubber as a core material for the foundations. For guests seeking the pleasant soundtrack of the waves and soft breeze, they can step outside to the sea balconies, which flank either side of the main deck.
Although the asking price is not disclosed, the CEO of Burgess New Construction commented that the superyacht was "…one of the largest deals not only in 2018 but in superyacht history."
She sails in mystique, at a top speed of 18.5 knots and a maximum cruising range of 5,000 nautical miles at 14 knots, thanks to her two 4,828 horsepower MTU diesel engines.